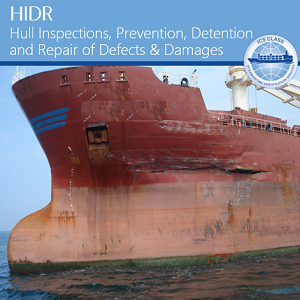 IMPORTANT: The HIDR is In-House Training.
---
Objectives
During 4 days these training courses will provide participants with a detailed description of the main aspects to be considered during the inspection of ships as well as the best techniques to hull inspections, prevention, detention and repairs of defects & damages as well as other important topics in relation to the RO Code & General Training for Surveyors (GTCS).
Content
Classification Societies (Origen, objectives & class symbols)
Classification requirements (New building & existing ships)
Types of Surveys (Annual, intermediate, docking, rudders and special surveys)
A.C.S procedurals
Maintenance of Class (Periodical inspections, intervals, Survey status, Condition of class, Memoranda)
Definitions of Surveys (Overall & Close-up surveys. Substantial corrosion)
Critical areas (coating condition)
Videos "Ships of Shame"
Enhanced Special Survey (Preparation for ESP, Executive Hull Summary Report, Survey Planning Questionnaire & Survey Programme for Oil Tanker & Bulk Carriers)
Thickness measurement (critical areas, renewal of plates & stiffeners, general considerations)
Materials classes
Damages (fatigue, stress corrosion, humidity, ship´s age, stress concentration points, repair methods, practical cases, damages in bulk carriers & oil tankers)
Structural concepts (simple supported beams, fixed beams, bending moments and gear forces practical application for surveys).
Port State Control Inspections & Detentions
Other important matters
Assessment & Feedback (group discussion)
Reading Material
All the reading material will be supplied on the first day of this course.
Contact Information
If you would like to attemp for this course please send us an email on modules@intermaritime.org
Refer to: HIDR Course (Flyer)