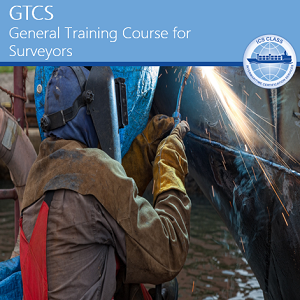 IMPORTANT: The Examination Paper of this Course is located at the bottom of this page. Do not click on the bottom START THE EXAM (located at the right side of this page). Please download the Word Document located at the end of this page and follow the instructions.
---
Objectives
The General Training Course for Surveyors (GTCS) will provide to survey staff, plan approval staff, audit staff, technical staff, support staff and other  participants with the minimum specifications to perform statutory work on behalf of a flag State in terms of certification and survey functions connected with the issuance of international certificates, including:
Introduction and comprehension regarding the applicability, definitions, type surveys,  certificates and forms to be used during the inspections and certification of International Maritime Conventions & International Maritime Codes;
Up-dated information in relation with International & National Regulations;
Compliance with instructive and procedures of ICS Class-Head Office.
Refer to: GTCS-Flyer.pdf
Reading Material 
The Reading Material is composed by:
Instructions for the Examination Paper
All questions are to be attempted.
Access to IMO Conventions & Codes is allowed (open-book examination).
Select one letter: a), b), c), d) or e), on the examination paper which is supplied to indicate which you judge to be the correct answer.
Only one answer is the correct.
Minimum score: 70% of correct answers for each section.
Examination Paper
This examination paper shall be completed and sent back to modules@intermaritime.org